History:
The property the Glass Center resides on has a rich oil history. It is the Glass Center's hope to provide educational material about the energy impact it provided during a crucial time in our nations growth, and how its new mission is to concentrate on a more sustainable energy answer for the future.
Restoring Antiques :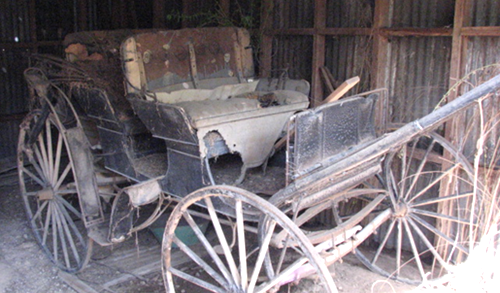 The Glass Center would like to honor its long history by restoring the antiques on the property. This is an old Studebaker Buggy, one of many old farm-related items that could be restored with the right knowledge.
Artist Residency:The Glass Center strives to stay connected to the Arts through its Artist-in-Residence Program, which includes free lodging and a minimal commitment to farm-work.
Educational Workshops:The Glass Center is currently in talks with UT-Tyler to begin hosting educational workshops concerning sustainable living, botany, environmental science, and other related topics.
Educational Videos: This is a constant effort to share what we've learned with the world. More videos to come in their respective project pages!
Scientific Research: Have a hypothesis you'd like to test? The Glass Center is open to experimenting and is currently comparing natural fertilizers in the pine tree forest and blackberry fields.
Constructed Wetlands (Greywater Recycling) : A good amount of water (kitchen, sink, shower, etc) used in the home can easily be reused for irrigation or flushing toilets without much remediation. A system of bathtubs or similar tanks can be set up with plants that will consume any nutrients and leave the water more or less "clean".
Weather Station: We would like to become a weather station for www.wunderground.com.