Organic Blackberries: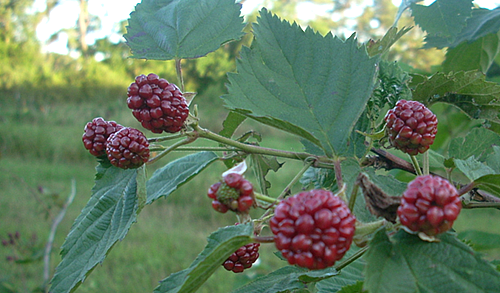 Currently our biggest horticulture undertaking at the farm, the blackberry field contains hundreds of plants that will produce from late summer into the fall. No pesticides, chemical fertilizers, or herbicides are used in maintaining the fields, just good old fashion manual labor. We look forward to making beer, wine, preserves, and pies with some of the fruit.
Boer Goats: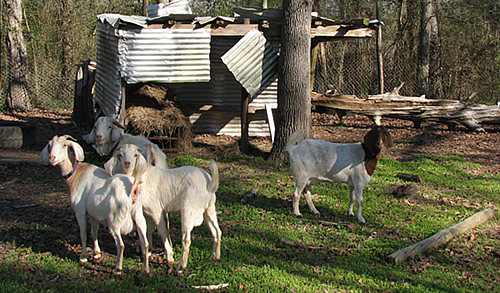 Kathleen, Dorothy, Max and Jim are like family to the farm residents.
Chickens: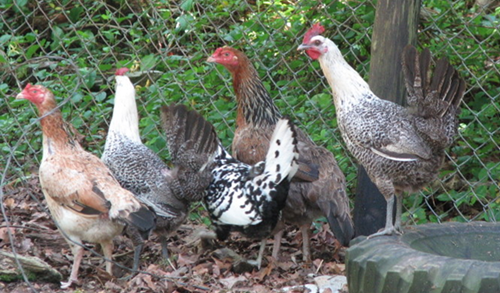 We've got chickens! They get to roam in a very large pen and we have fixed up a nice nesting place for them so that we can collect eggs, hooray!
Fish (Aquaponic System):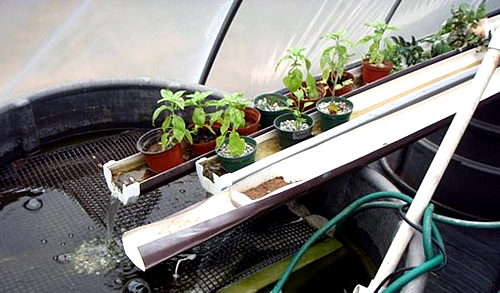 Fish are raised in tanks in a recirculating system that utilizes the fish waste, or emulsion, to grow plants hydroponically. In turn the water is filtered by the plants to become reusable for fish. The process is designed to utilize as much energy as possible while producing no waste to show for it.
Homebrewing Facilities: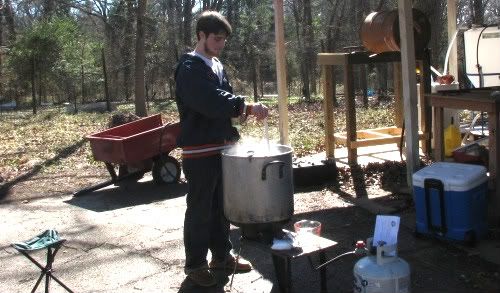 Jeff and Hugh have teamed up to start producing the farm's own beer through all-grain homebrewing. Homebrews are not only delicious, and financially viable, but also contain B vitamins that are welcome to any vegetarian's diet. Future projects involve brewing hopless beer and growing the grains needed for the brewing out at the farm.
Raised Bed Garden: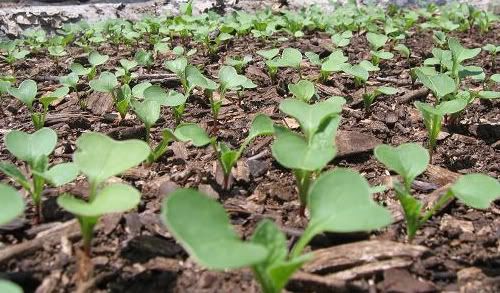 No sustainable community would be complete without an organic garden. The goal of the raised bed garden is to produce enough food to provide for the residents during season. Like the blackberries, we keep the plot free from pesticides, herbicides and other chemicals and strive to create an ecosystem where everything is balanced and bountiful.
Herb Spiral:
Functional and aesthetically pleasing (please excuse the goat-protection fence), the herb spiral was constructed with one of the most plentiful resources out at the farm - wood. Logs were cut in order to create a spiral to grow culinary and medicinal herbs. The spiral pattern allows manipulation of ideal growing conditions in regards to moisture and sunlight depending on where it is located within the structure.
Honey: The farm previously had bees in an area covered in wild blackberry plants. We hope to have bees again to enjoy organic wild blackberry blossum honey and to aid in pollination.
Orchard: This is really just one line of trees, but we wish to expand it.
Mushrooms: Shitake, oyster, and portabella, we'd like to grow our own as part of a "living system" using spent grains as our medium.
Kiln: To melt/recyle glass, make pottery, and fire all sorts of things that can be used as packaging for beer, plants, and blackberry goodies!